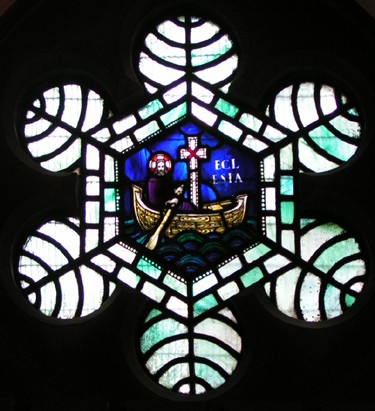 This image © 2006 Billy Izzard
This window is situated in the West Vestibule and can be seen on the left at the Church entrance.
It was incorporated into a memorial, designed by Henry Edward Clifford F.R.I.B.A., and dedicated in 1916 to the Rev Dr Niven, the first Minister of the Church. The Church was known locally for many years as 'Niven's Kirk' and the text on the memorial includes … "and through his untiring labours the church was built."
The word 'Eclesia' featured in the window originates from ancient Athens, where a gathering of people was called 'Ekklesia'. Over time the word was used by Christians gathering together and eventually took the meaning of the place they met, a church. Eclesia was translated into the word 'church' in the Bible and is used in Matthew 16 v 18 … "and so I tell you Peter you are a rock and on this rock I will build my Church"